The Saint John Fire Department has been operating since 1786.  Today, the department is responsible for servicing 126 square miles of the City.
Annual Statistics YTD (October 31, 2023)
Total calls YTD as of October 31, 2023 as compared to previous years for the same period.
Image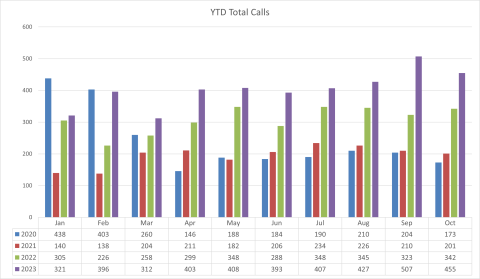 Image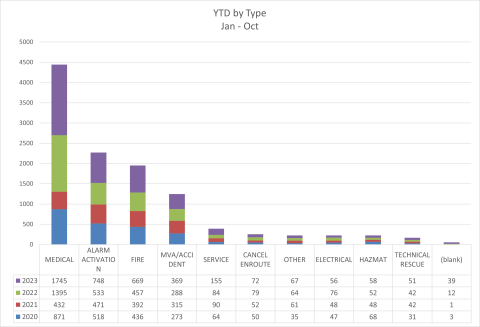 Image
The department's focus is on reducing loss of life, personal injury, property damage or impact on the environment through six primary services:
Fire Rescue and Suppression
The Fire Rescue and Suppression Service provides emergency mitigation and rescue response to residential, commercial, and industrial fires and/or explosions. Saint John's unique makeup of residential, old balloon frame housing stock, commercial properties, and heavy industry presents firefighters with unique response challenges—challenges our people are trained to meet. 
Technical Rescue
The Technical Rescue Service carries out emergency rescue operations to people trapped by their physical environment—typically due to water, ice, motor vehicle accident, structural collapse, confined space, or high angle. The Technical Rescue team uses specialized equipment and training, and adheres to the latest NFPA standards for technical rescue.
Fire Prevention and Investigation
The Fire Prevention Division promotes a proactive approach to fire and life safety through public education, training, inspections, and code enforcement. The Fire Investigation Service determines the cause and origin of structure or wildland fires. This assessment may form the basis of a criminal investigation by the Saint John Police, and could lead to changes in processes, or product recalls.
Medical First Response
First responders provide life-saving care to the citizens of Saint John in their time of need. Firefighters use the latest techniques and equipment to provide First Responder CPR/AED care when the Saint John Fire Department is first on the scene. The medical care model adapts to the needs of the community and has recently added Narcan administration to the scope of practice.
Hazardous Materials (HAZMAT) Emergency Response
The HAZMAT team's goal is to protect people, property, and the environment from the consequences of hazardous materials releases. These team members are trained to operate highly-specialized metering and monitoring equipment, in the use of specialized chemical protective clothing, hazard-risk assessment, and decontamination. Due to its high level of HAZMAT response expertise, the SJFD provides hazardous materials response services to communities throughout the southern half of the province.