October 9-15, 2022 is Fire Prevention Week
Image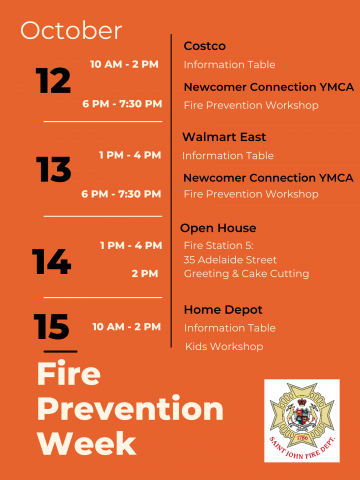 Fire Prevention Week (FPW) (nfpa.org)
The Saint John Fire Department is reminding residents of the importance of fire safety and prevention as national fire prevention week runs from October 9-15, 2022. This year's theme "fire won't wait: plan your escape" is an important reminder to prepare a fire escape plan and to practice it as well to ensure that when the smoke alarm sounds, everyone in your household knows what to do.
Do you know what sounds your smoke alarms and carbon monoxide alarms make? And more importantly… what those sounds mean?
A continuous set of three loud beeps means smoke or fire. Get out, call 9-1-1 and stay out. 
A single chirp every 30 or 60 seconds means the battery is low and must be changed. 
All smoke alarms must be replaced every 10 years.
There's a lot we can do to help prevent a fire in our home or business. The Fire Prevention Division promotes a proactive approach to fire and life safety through public education, training, inspections, and code enforcement. Below are a number of helpful resources. We encourage you to take the time to learn how to keep your home and family safe.
Links and resources provided by NFPA.org
Home Fire Safety
Children Fire Safety